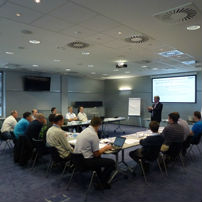 On-site or residential courses are possible. In order to reduce your costs and help solve logistic problems we are available to provide these courses in any location chosen by our clients. Alternatively we can arrange residential courses in Italy.
Courses start at 9.00am and finish at 5.00pm each day (the start times can be modified to suite the preferences of the participants). The course delivery time (i.e. lecturing time) is 6 hours per day.  There will be 10 or 20 minutes breaks every hour with a one hour timeslot for lunch (not included in the 6 hours delivery time).
In order to keep each course up to date its contents are updated every 3 months and so minor variations to the descriptions are possible. The course has recently been updated to include some practical demonstrations of VoIP. A full course time table will be sent on course confirmation.
The Course is delivered by an experienced instructor who has worked in the particular field and is familiar with the current issues.
The Course language shall be English and the Course Book accompanying the course is written in English.
We have 5 as a minimum number of participants, but we recommend that the maximum number not exceed 20 in order to ensure active group involvement.
Participants are invited to asked questions when ever necessary as the Course progresses.
We are available to customize a course to satisfy a client's specific requirements.
We are also at your disposition to combine relevant modules from individual courses to suit your particular requirements.
Go back to principal page